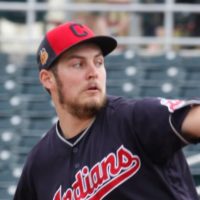 Los Angeles Dodgers pitcher Trevor Bauer, who is under investigation on allegations of sexual assault in California, was also the subject of a temporary order of protection sought by a different woman last year in Ohio.
According to court records obtained by The Washington Post, an Ohio woman sought the order in June 2020 after repeated threats from Bauer – then a pitcher for the Cincinnati Reds. The woman's allegations are similar to ones made by a woman in Los Angeles this summer when she applied for a temporary restraining order.  However, Bauer's lawyer Jon Fetterolf and agent Rachel Luba denied that Bauer had injured the Ohio woman, saying she made an "unwanted and unsolicited visit in which she was belligerent, heavily intoxicated and physically attacked [Bauer]."  They also said in a statement to The Post that the two were in an "on-and-off" consensual relationship for approximately three years and that the woman pursued him, telling The Post that the allegations of physical abuse were "categorically false." The woman later voluntarily dropped the order against Bauer.
Bauer is currently being investigated for separate sexual assault allegations.  The accuser, a California woman, filed a domestic violence ex parte restraining order on June 28. A hearing on the restraining order is scheduled for Aug. 16.  Bauer has been on administrative leave since July 2 under the league's joint domestic violence, sexual assault and child abuse policy as the league and Pasadena Police Department continue to investigate the sexual assault allegations against him.
Editorial credit: Keeton Gale / Shutterstock.com